Looking Back, Looking Ahead:
Lessons Learned in 2021
Looking Back, Looking Ahead:
Lessons Learned in 2021
December 2021:
Looking Back, Looking Ahead: Lessons Learned in 2021
Organizations should practice leaning into change, not reactively but proactively.
2021 was hectic. Still in the midst of a global pandemic, but not as tightly locked in the jaws of COVID-19 as they were in 2020, enterprises across industry lines faced some common challenges and some unique ones to their sector in 2021. In many cases, these challenges led to hard lessons learned, which are directly and drastically impacting businesses' trajectories as they move into 2022 and beyond.
For instance, in cybersecurity, two converging trends—the increase in ransomware and the continued focus on remote work in the enterprise world—led to a perfect storm of sorts and, overall, another tough year in terms of destructive breaches and hacks. Supply chain issues continued to plague industries, influencing many organizations' paths to digital transformation. In transportation/logistics and retail, challenges in 2021 (and holdover challenges from 2020) have led to the need to completely reimagine processes.
2021 may not have been as tumultuous as 2020 in many ways, but it was still a year full of painful growth—some forced and some voluntary. The role of the IoT (Internet of Things) in this growth cannot be overstated. Digital transformation with the help of technology is at the heart of this discussion, and it will help enterprises and the workforce of the future become more resilient and agile in the face of change and new challenges to come.
A Chaotic Year in Cybersecurity
Lisa Plaggemier, interim executive director at NCA (National Cybersecurity Alliance), formerly called "NCSA", says 2021 was a chaotic year for the cybersecurity industry, particularly due to two challenges: ransomware and the continued emphasis on remote work. "Whether it was the Colonial Pipeline or JBS Foods, 2021 has unfortunately been a banner year for ransomware," Plaggemier says. "In fact, ransomware attacks jumped 151% during the first six months of 2021 in comparison to the same period last year. This has not only introduced another area of concern in terms of breaches, but it has also led many enterprises into new strategic territory around whether or not they are going to pay ransoms."
Furthermore, many enterprises were—and still are—working out the kinks around their remote working environment and infrastructure. "The business community did an admirable job of rolling out their remote work operations," Plaggemier adds. "However, given the priority at the start of the pandemic was to get things online as quickly as possible, cybersecurity unfortunately took a back seat—and thus has likely contributed to the spike in effective cyberattacks."
Unfortunately, given the number of high-profile breaches that have occurred this past year, many enterprises have learned some hard lessons about where they are in terms of cybersecurity. With that said, Plaggemier believes there are also positives takeaways from 2021. For instance, as digital transformation efforts have ramped up, there has been a realization among enterprises that they need to rethink their entire cybersecurity infrastructure—from training to tools, and this can only lead to more resilience.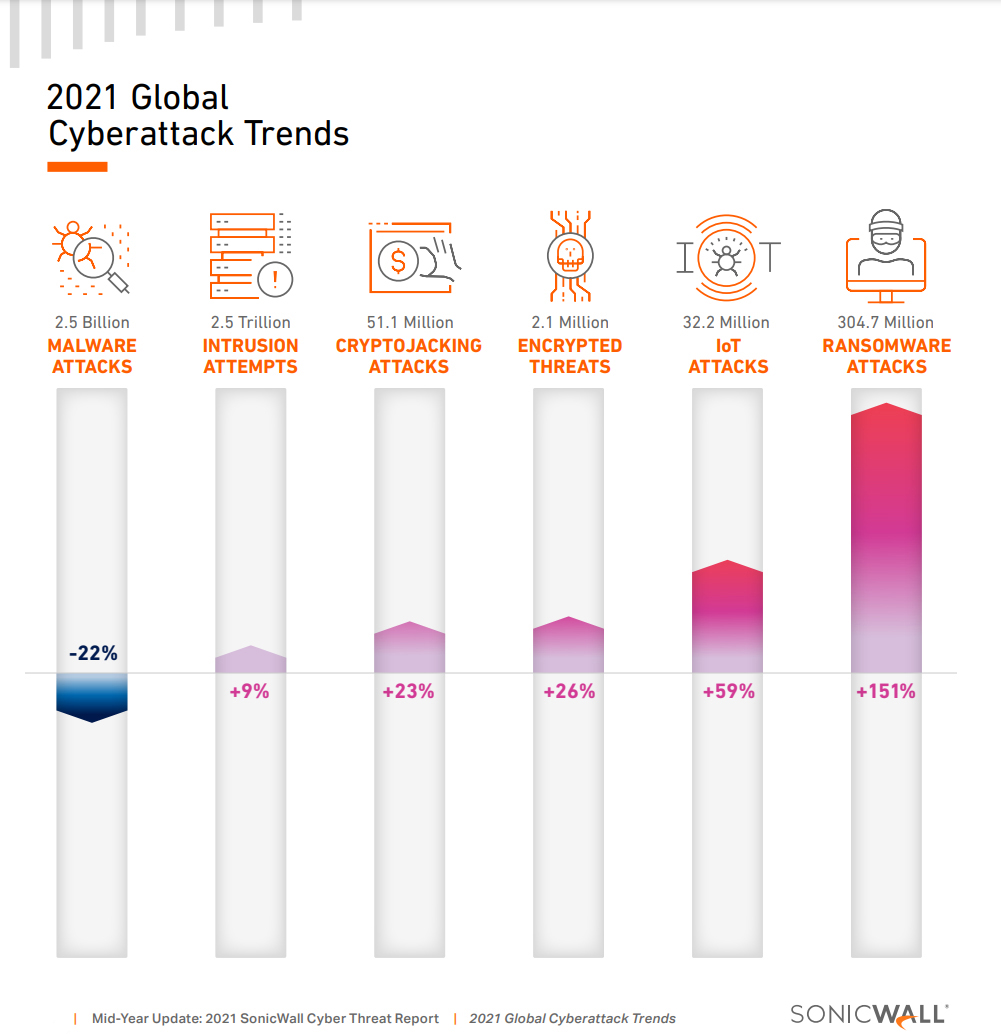 "According to our research, a whopping 52% of everyday people have never heard of MFA (multi-factor authentication), while 64% do not have access to regular cybersecurity training at work. These are two numbers that need to change significantly, and, fortunately, many enterprises are taking note. From launching dedicated cybersecurity awareness departments to mandating MFA and password manager use, there are several hugely effective and easy-to-implement steps that enterprises can take to better equip their organizations and employees with the knowledge and tools they need to stay safe."
Based on lessons gleaned from 2021, Plaggemier says to look for increased cybersecurity training and awareness, as well as the proliferation of password managers and MFA becoming staples of the cybersecurity space in the year ahead. Additionally, given that cybersecurity is a global challenge, she says to expect increased collaboration among nations, as well as between the public and private sector as all parties look to establish a safer digital world.
"For decades, we have been trying to scare individuals into doing the right thing instead of providing them with the knowledge and positive guidance that can actually drive change," Plaggemier concludes. "(In 2022), enterprises need to focus on boiling messaging down and making it more accessible to the everyday person. Of course, it is important to know what a ransomware attack is. However, if people don't know that they can do something to prevent them, what is the point?"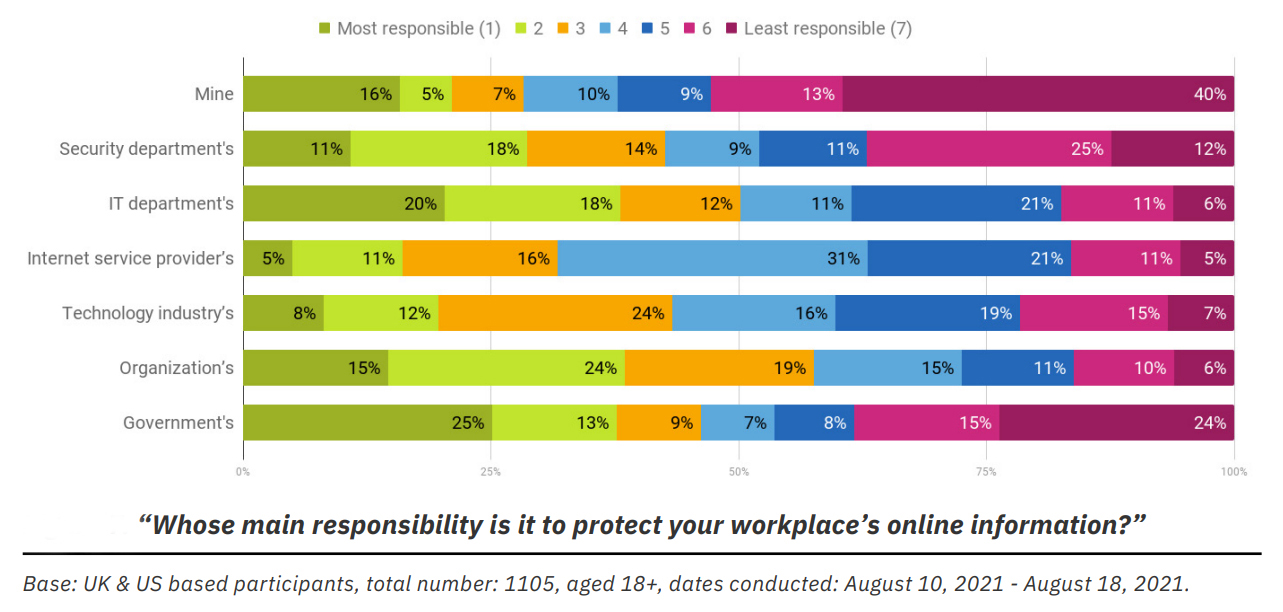 Tony Anscombe, chief security evangelist for security software solution provider ESET, says a key takeaway from 2021 is that cyber attackers are becoming more sophisticated—as evidenced both by the number of attacks and by the multiple extortion methods used. "The incursion by an intruder that is willing to spend time and effort to establish a strong foothold in a corporate network is a change to a more advanced-persistent-threat-type model—something that was once more aligned to espionage," Anscombe says. "The ransomware attacks and increased demands of 2021 should be a warning to businesses that different tactics need to be sought."
Further, Anscombe says paying a ransom is not a solution to the underlying cybersecurity issue. "If companies continue to pay ransomware, the situation will only continue to escalate until there is either a breaking point or legislation," he explains. "Companies need to have the best preventative measures in place and, importantly, have the right processes and procedures in place not to pay a demand and to recover from an incident."
In 2022, cybercriminals are likely to attempt diversification of their monetization opportunities. "Political pressure and the high visibility placed on ransomware due to cyberattacks such as Colonial Pipeline will cause some perpetrators to seek less notoriety and fly under the radar of the current law enforcement focus on certain areas of cybercrime," Anscombe predicts. "Many of the bad actors that have been utilizing ransomware-as-a-service options could switch to other malware-as-a-service offerings or leverage emerging opportunities to use deepfake technology to exploit victims."
Looking ahead to 2022, Anscombe believes supply chains will become a more significant target for cybercriminals. And, in fact, security was just one of many challenges the supply-chain space faced in 2021.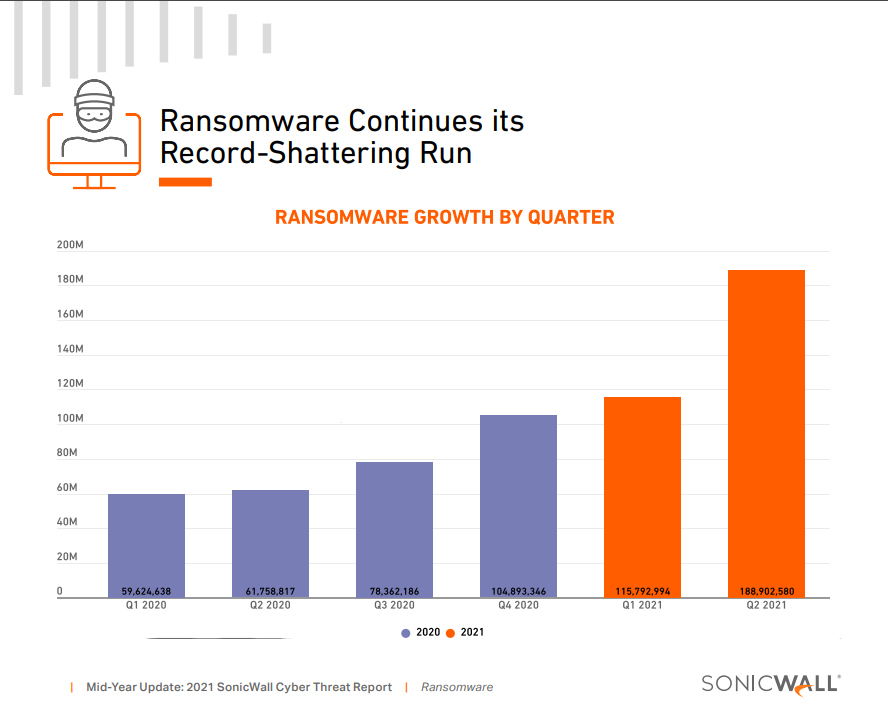 The Future of City Mobility and Automotive
Cities are facing one big challenge: failing infrastructure, which is impacting all facets of city mobility including automotive. Even with hybrid working arrangements for many, there is still a strain on our cities' infrastructure systems. Here is my question: what if we reimagined mobility?
Digital Twin and the Data Tsunami
Engineering data, schedules, enterprise data, control and sensor data, GIS (geographic information systems), LiDAR: There is a veritable data tsunami that is happening in businesses these days, and construction and engineering companies are now tasked with harnessing all this data, which comes at the same time as the new Infrastructure Investment and Jobs Act. Enter digital twins, which are able to not only reign in the data, but will also enable contractors and engineers to make better and faster decisions. Let's explore.
Manufacturing Ramps Up, but How?
A host of industries are still not yet fully recovered from the remarkable fallout that has surrounded the COVID-19 pandemic—and the ripple effect can be felt across many waters of the globe. But this has me wondering which sectors will continue to grow more rapidly than the economy as we head into 2022. If I were a betting person, I would guess the best sectors that are outperforming others have greatly begun the digital transformation journey.
What's Next: Opportunities Abound
Welcome to a new month. As we head into the New Year, we need to consider how business has changed in the past year and how it might also change in the year ahead. We are at the precipice of a great shift in business, all with the help of digital transformation and the IoT (Internet of Things). The time is now for great innovation. Let me explain.
Supply Chain: What Did We Learn?
Ilse Henne, chief transformation officer at thyssenkrupp Materials Services, says the pandemic has created extreme challenges and pushed enterprises to react quickly. In terms of operations, she says supplies were suddenly not available and demand collapsed. One reason for this was the lack of transparency of data in supply chains. "The pandemic accelerated a development that was already progressing," Henne explains. "A lack of transparency but also flexibility in production and supply chains was already an issue before. The pandemic has only made these challenges more visible."
Going forward, companies must be able to respond to changes more quickly and with more flexibility, and data transparency along the supply chain is no longer a luxury. "The pandemic was and is certainly an extreme situation," Henne says. "Nevertheless, enterprises will have to be able to adapt to changing conditions and requirements fast in the future. We have noticed this in our business as a materials distribution and service provider for quite some time now. For example, our customers were forced to ramp up or down their production due to a shift in demand. Enterprises need to look even harder at how they can make their own processes flexible without losing efficiency."
The solution, according to Henne, lies in the digitalization of processes and the smart use of data. Henne also acknowledges the importance of AI (artificial intelligence) and machine learning in offering companies a wide range of operational business benefits. "(These technologies) will help to reduce errors, automate repetitive tasks, (and) free up staff to focus on value-added tasks," she says. "For example, we already use an AI solution that helps optimize the supply chain. Incorrect deliveries are avoided, and inventory costs, storage costs, and the number of transports are reduced. Ultimately, however, solutions like this also support us in avoiding waste and enable us to act sustainably as a company while also offering sustainable solutions for our customers."
The challenge of becoming more sustainable is also prompting digital transformation. "Especially in the past year, we have noticed strongly that our customers are putting far more focus on the issue (of sustainability) than before," Henne explains. "And we will not be able to achieve a sustainability goal as, for example, 'zero emissions' without technologies."
On one hand, supply-chain optimization initiatives and projects allow companies to operate more flexibly, and on the other hand these initiatives allow enterprises to operate more sustainably. Henne describes sustainability as an overriding topic of today and tomorrow, saying: "It is no longer a question of 'if' but of 'how' companies deal with sustainability and the importance they attribute to it."
George Westerman, principal research scientist for MIT's Jameel World Education Lab, senior lecturer for the MIT Sloan School of Management, and a member of the Digital Strategy Roundtable for the U.S. Library of Congress, points to supply-chain challenges as one of the key hurdles enterprises faced in 2021 that pushed them toward digitalization.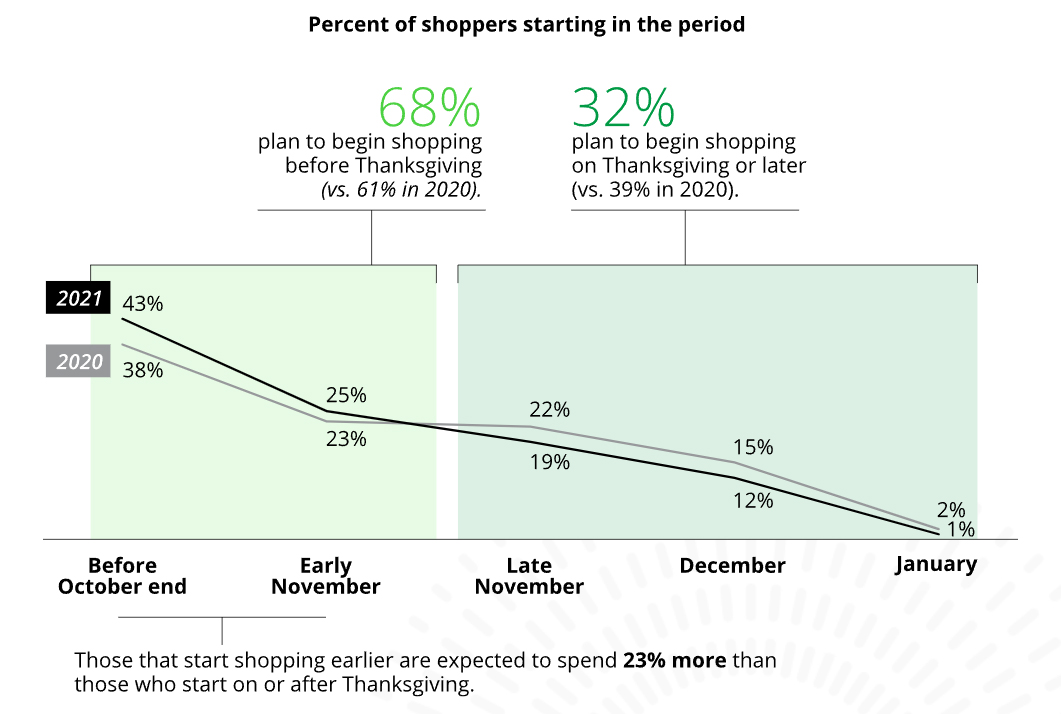 Westerman says the world keeps changing quickly, and organizations need to keep up. He adds: "The First Law of Digital Innovation says 'technology changes quickly; organizations change much more slowly.'"
If organizations want to become more agile, they must pursue digital transformation. Westerman advises organizations to build a more digital-ready culture and rethink how they approach learning and development. To build a more digital-ready culture, Westerman advocates converting digital transformation from a project into a capability by changing the vision, changing the legacy platform, and changing the way the organization collaborates. In terms of learning and development, Westerman believes most companies are still in the last century, and that needs to change. Amidst digital transformation and other dynamic aspects of today's workplace, Westerman's take is that workplace learning is a key lever for success.
Dialing in on Transportation/Logistics and Retail
Heather Mueller, chief marketing and product officer for Breakthrough, a transportation solutions provider, suggests more change is exactly what the transportation and logistics industry needs. "Historically, the industry had been making incremental improvements to a baseline way of doing business—always looking to eliminate a bit more waste than last year, save incrementally more money in the process, and find optimizations that kept us creeping towards the next goal," Mueller explains. "But the sudden shock from the last year and a half illustrated that this slow and gradual change won't cut it when disruption hits. The biggest trend that we have seen emerge is that there needs to be a more systemic and holistic shift in how we approach the way we fundamentally do business, so that we come out of (disruption) more resilient and nimble."
2020 and 2021 have proved that companies need to be vigilant and prepared for things to change at a moment's notice. "In the last year, we have seen that the companies who are thriving are the ones that had already been looking to engage with the next big innovation," Mueller says. "They had long been on the cutting edge, looking to engage with their customers in new ways. By anticipating new solutions and trends, organizations cultivate an appetite to try new things, allowing them to experiment in small ways first before the stakes are raised in practice. The lesson here is that, inevitably, the 'old ways of doing things' won't hold up forever, and if that is all you are comfortable or familiar with, change becomes a hardship."
From a transportation/logistics perspective, Mueller's view is that the space had so long been centered on incremental improvement that when things fell apart, many teams didn't have a portfolio of prototypes and tests they could fall back on. Therefore, she says: "The future needs to promote experimentation and flexibility to move into unexpected directions, and it will keep organizations competitive as we charge ahead."
Volatility is becoming the rule rather than the exception, and organizations need to equip themselves to operate from this mindset. "This includes piloting new solutions and technology early and often, so that when it becomes ready or needed, organizations have experiences and data to look back on so they can hit the ground running," Mueller explains. "Making this shift successful will require the right team with the right mindset and vision for the future.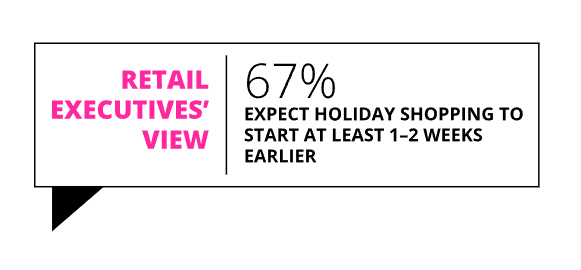 To solve these more complex and varied problems, companies should empower their team to experiment and look for new solutions, while also seeking talent that has experiences and diversity from outside their usual talent pool."
Addressing workforce challenges will also be critical in the retail space. Rod Sides, vice chairman and U.S. retail and wholesale and distribution leader at Deloitte, says in 2022, more investments and incentives will likely be needed to attract talent. "Retailers also need to look for new ways to engage a dynamic workforce," he adds. "As more people are moving in and out of positions, it highlights the need for programs on retention, training and development, and hiring to ensure retailers are looking for the right and evolving skillset in stores, supply chain, and corporate functions."
Sides says in addition to labor shortages, supply chain issues and inflation were also challenges for retailers in 2021. "In terms of supply issues, 64% of retail executives in our holiday survey were concerned that they wouldn't receive holiday merchandise in time for the holidays, despite 43% placing orders earlier than they did in 2019," Sides explains. "Inflation was also top of mind, with half expecting higher prices this holiday season, and some were concerned that low inventory levels would mean they wouldn't be able to promote as much as in previous years."
Going forward, retailers should have clear visibility into their supply chain networks—spanning across multiple vendors, suppliers, distributors, warehouse operators, store workforce, and delivery partners. "Incorporating much-needed transparency into the supply chain requires the organization to be committed and accountable for its partners and workforce," Sides says. "In such an accountable network, every stakeholder will have incentives for identifying issues early on and responding promptly. Given that much of the supply chain is uncontrollable, retailers also need to build agility in their upstream and owned supply chains in order to pivot and adapt quickly."
Four
Digitalization Trends for 2022
George Westerman, principal research scientist for MIT's Jameel World Education Lab, says to watch these four digitalization trends in 2022:
Smart manufacturing taking hold
More supply-chain management innovations
"Right-placing work"—i.e., finding the right combo of in-office and remote work
Adopting more permanent changes for the post-pandemic world
Finally, as retailers look to build resiliency in their supply chains, it will be important for them to consider that supply chains, inventory management, and digital user experience can no longer operate in separate silos. "A more holistic approach needs to be taken to create inventory ecosystems that are integrated end-to-end, from production to last-mile delivery," Sides adds. In fact, as enterprises move into 2022 with lessons learned from 2021 in mind, it's clear there's a need to rethink processes almost across the board—from how organizations approach cybersecurity to how they manage supply chains and workforce challenges—in order to address issues that were prominent in 2021, like the need for security, visibility, and sustainability.
"The pandemic and the economic environment that has followed is forcing us to meet issues head on," concludes Breakthrough's Mueller, "and the organizations that are navigating these changes well are the ones that are willing to reimagine their processes from the inside out." Perhaps what organizations learned most in 2021 that they will take with them into 2022 is the value and importance of leaning into change, not reactively but proactively.
Want to tweet about this article? Use hashtags

#IoT #sustainability #AI #5G #cloud #edge #digitaltransformation #machinelearning #futureofwork #bigdata #cybersecurity #supplychain #digitalization #transportation #logistics #retail #trends
Read past articles or listen to past podcasts related to trends

From the street this house will look like all the others. However, if you follow Specialty Publishing Media tech expert Peggy Smedley, from the moment the land is prepped, this home will be a model for sustainable, resilient, and efficient residential homebuilding practices. Peggy and her husband David are embarking on the unimaginable. They are building a Living Lab, with the help of a host of industry partners to encourage ecofriendly and green living.
Greys Sosic, professor, USC Marshall School of Business, addresses the overarching challenges impacting the global supply chain. She explains that in the last several decades we have witnessed the supply chain attempting to become more efficient—and it was highly successful as long as it was working and didn't have any big disruptions. The good news in all of this, she says, is that digital transformation is a good solution and we are realizing the benefits of digitally transforming supply chains.
Share This Story, Choose Your Platform!
When the pandemic hit, and we all went home, virtual connection became not only important but essential. A world that had been wildly connected before the shutdown had to develop new ways of socializing and, yes, hosting parties via
For years people have been excited about the prospect of wireless power. Several technologies and products were developed and tested ranging from near field, which required placing the device on a pod to far field wireless tech, which
Industrial manufacturers have embraced the concept of future-proofing their organizations via the Industrial IIoT (Internet of Things). What started as a growing realization in 2019 as pressure to meet the needs of rapid change and